Outsourcing software development can be a major headache. Clients are burdened with the difficult decision of who to partner with. When your business vision — not to mention time and resources — is at stake, you have to choose wisely.
But not all development firms were made equal. How does one navigate a sea of developers, who all seem to promise the same thing?
This is why client testimonials are so important. Customer reviews lend credibility to service providers like us, proving that we're a trustworthy partner for your next project.
We have many clients who can vouch for our exceptional development skills. Our stellar reviews are showcased on Clutch, a B2B ratings and reviews platform that publishes detailed, honest reviews of business engagements.
What's more: we've just been recognized by Clutch for being a top developer in Poland!
This is huge. Clutch's robust team of researchers analyzes thousands of service providers in the region, and we've managed to stand out from the rest.
Our CEO could barely contain his excitement: "We are thrilled that Clutch recognizes it-solve as a 2020 Clutch Leader. It motivates us to deliver even better work."
We all share his sentiment here at it-solve.
it-solve creates thoughtful solutions to your business problems, regardless of what industry you're in. We specialize in secure, user-friendly, and high-performance products, and we adhere to the scrum methodology to deliver them. We're particularly proficient in .NET, but we can handle a diverse tech stack.
In a recent project, we developed software for an architecture and engineering firm. We delivered a solution, meant for internal use, and offered extensive testing. It allows the client to examine their market position and assess potential risks.
Our client was thrilled with our work. How we know that? They left us a 5-star review!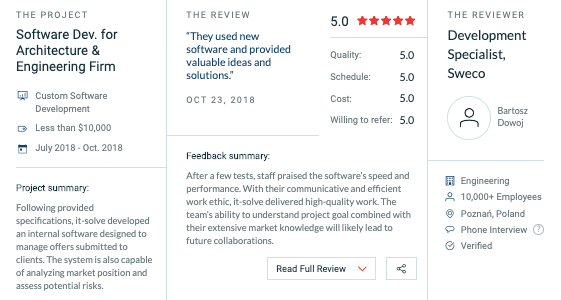 If you're still skeptical, you can visit our portfolio on The Manifest, a company listing site. Clutch's sister site showcases the past projects of agencies and software companies, in an effort to win over special software shoppers like you.
So what are you waiting for? Talk to us about your next project, today!
Have a project in mind? Need help with an ongoing one?
We'll be happy to talk!
Wiktor
Co-Founder, Key Account Manager